Nowadays, when it comes to sports and an active lifestyle, it is no longer just about women. Men are increasingly focused on health, fitness and performance and are looking for ways to optimize their sports activities. And one of the latest trends that has caught the eye is men's sports compression leggings and clothing. These leggings are not just for women, as you might have thought. Men in a variety of sports, from runners and exercisers to hikers and skiers, are beginning to discover the benefits that men's sports compression leggings provide. Muscle compression, better blood circulation, improved muscle regeneration – these are just some of the benefits you can experience when using this special clothing.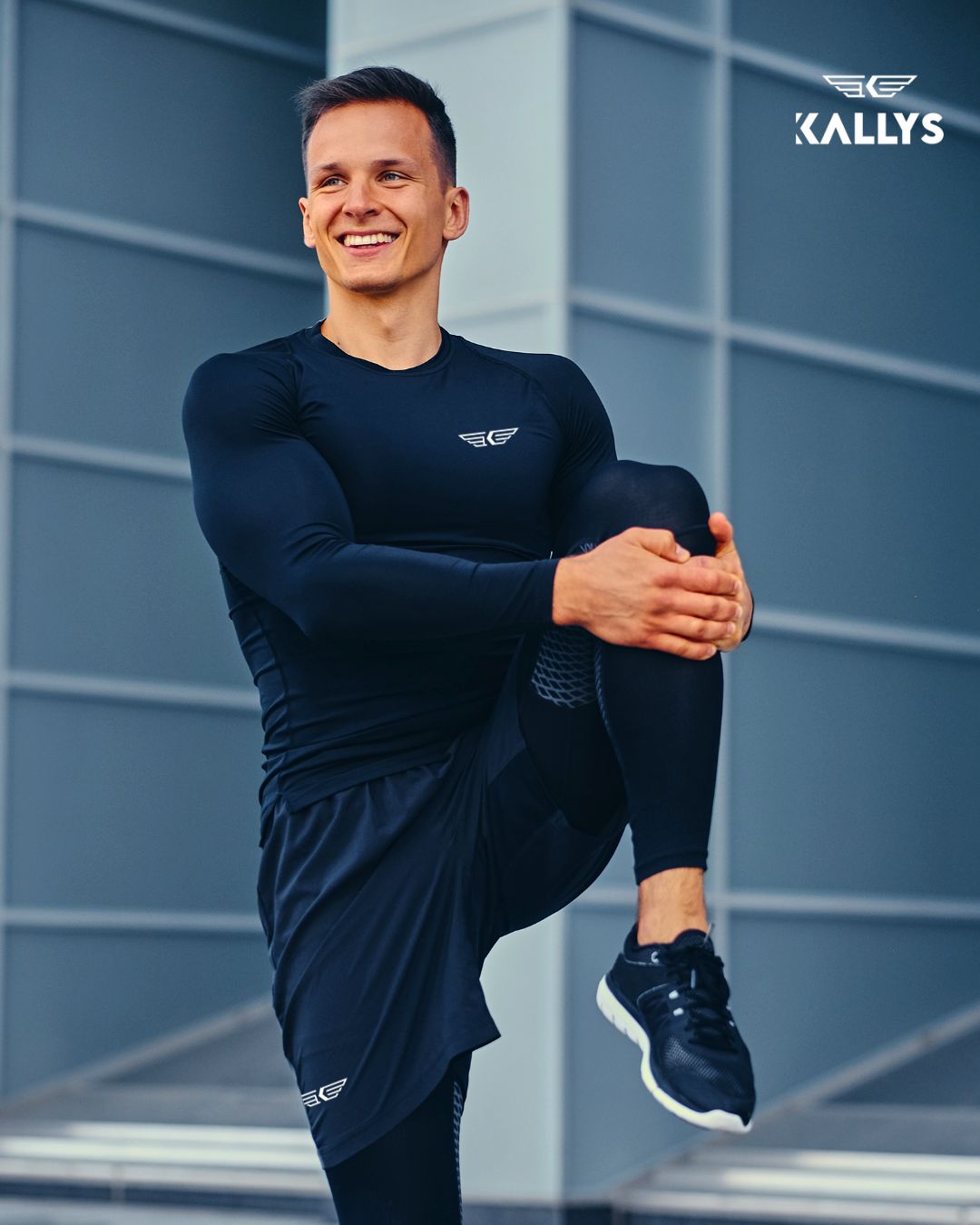 Men's sports compression leggings and clothing
The increasing popularity and acceptance of men wearing compression clothing is proof that traditions and prejudices are changing. Today, it is not unusual to see a man in compression leggings, regardless of his sport or performance level. Compression clothing for men has become a symbol of sporty elegance and determination to achieve maximum performance.
In this article, we will focus on men's sports compression leggings and clothing. We will explore their versatility and benefits for men in various activities. From running and working out to hiking and skiing, compression leggings for men have become an important part of the sports arsenal of many. Along with them, we will also look at compression shorts and t-shirts for men, which offer similar features and benefits. If you're wondering how men's sports compression clothing can help you perform better while staying comfortable, keep reading. We will reveal everything you need to know about this exceptional sports trend and why you should include it in your sports equipment.
Sports compression leggings for men
Men are increasingly focusing on their health, fitness and achieving maximum performance. In this context, it is becoming an increasingly popular and accepted trend to wear men's sports compression leggings and clothing. Yes, you read that right, compression leggings aren't just for women anymore. Men in various sports are discovering the benefits of these sports compression leggings. These are leggings that provide muscle compression and improve performance during sports. If you're still hesitating why you should consider this special outfit, consider the following benefits and versatility they offer.
1. Improved blood circulation.
Compression leggings for men create pressure on the muscles, which improves the flow of blood and oxygen to the working muscles. This leads to better performance, faster muscle recovery after intense training and reduces the risk of muscle tension and fatigue.
2. Support of muscle regeneration and reduction of muscle tension.
Muscle compression stimulates muscle tissue and promotes faster muscle regeneration after training. Leggings reduce muscle tension, which can help minimize muscle soreness and improve overall mobility.
3. Increased feeling of comfort and muscle stabilization.
Men's sports compression leggings have shape cuts and a tight fit to the body. This provides a sense of comfort and at the same time stabilizes the muscles, reducing the risk of injury and improving the correct posture when moving. The use of sports compression leggings for men is wide and includes various activities. Whether you are an enthusiastic runner, sports enthusiast, hiker or lover, men's sports compression leggings will be your reliable companion.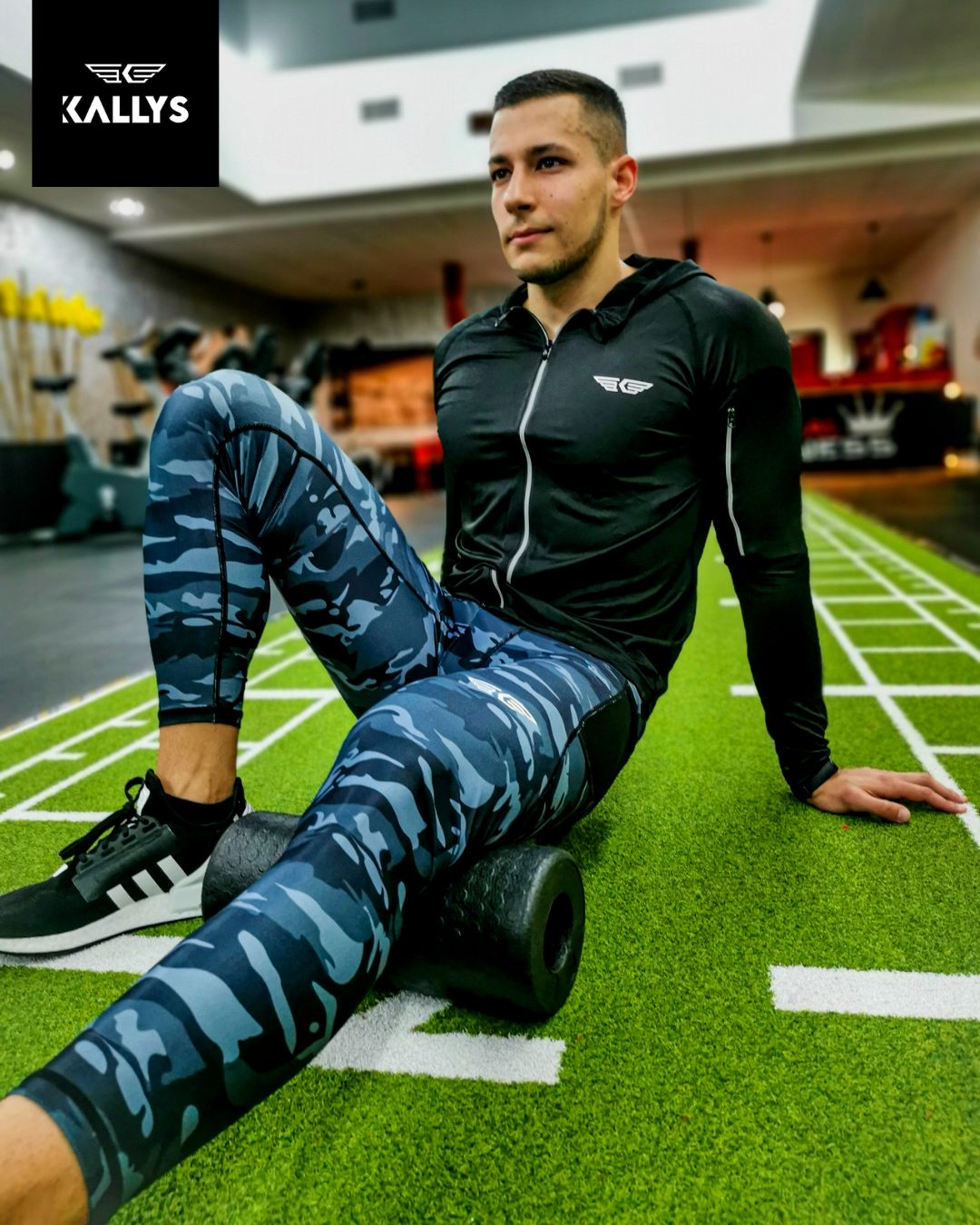 Here are some examples of how you can use them:
• Running:
Men's compression leggings are ideal for long distance running. They provide compression that reduces muscle vibration and minimizes fatigue. Improved blood circulation and support of muscle regeneration will help you perform better and reach your goals faster.
• Exercise:
Whether you're working out at the gym or at home, men's compression leggings can provide support, comfort and improved performance. They help keep the muscles in the right position, reducing the risk of injuries and increasing the effectiveness of exercise.
• Hiking:
If you love hiking and long walks in nature, compression leggings are the ideal partner for you. They provide support to the muscles, reduce fatigue and minimize muscle tension. In addition, they can help you maintain body temperature and wick away moisture, which is important when moving in different weather conditions.
• Other activities:
Men's compression leggings are also used in various other sports activities, such as cycling, football, basketball or skiing. Their benefits and versatility will ensure you feel comfortable and perform at your best, whatever you're doing. When choosing men's compression leggings, it is important to pay attention to the right size and material. Make sure the leggings are compressive enough but comfortable at the same time.
The material should be functional and quick-drying to keep the skin dry and comfortable during exercise. Adding men's sports compression leggings to your sports gear can bring a number of benefits. Improved blood circulation, faster muscle recovery, regeneration support and comfort are just some of the benefits that men's sports compression leggings can provide.
In addition, they are very versatile and you can wear them practically anywhere you need support and muscle compression. But don't forget that men's sports compression leggings aren't the only piece of compression clothing available. If you prefer shorter bottoms, you can also consider compression shorts. They have similar benefits to compression leggings, but offer more freedom of movement in the leg area.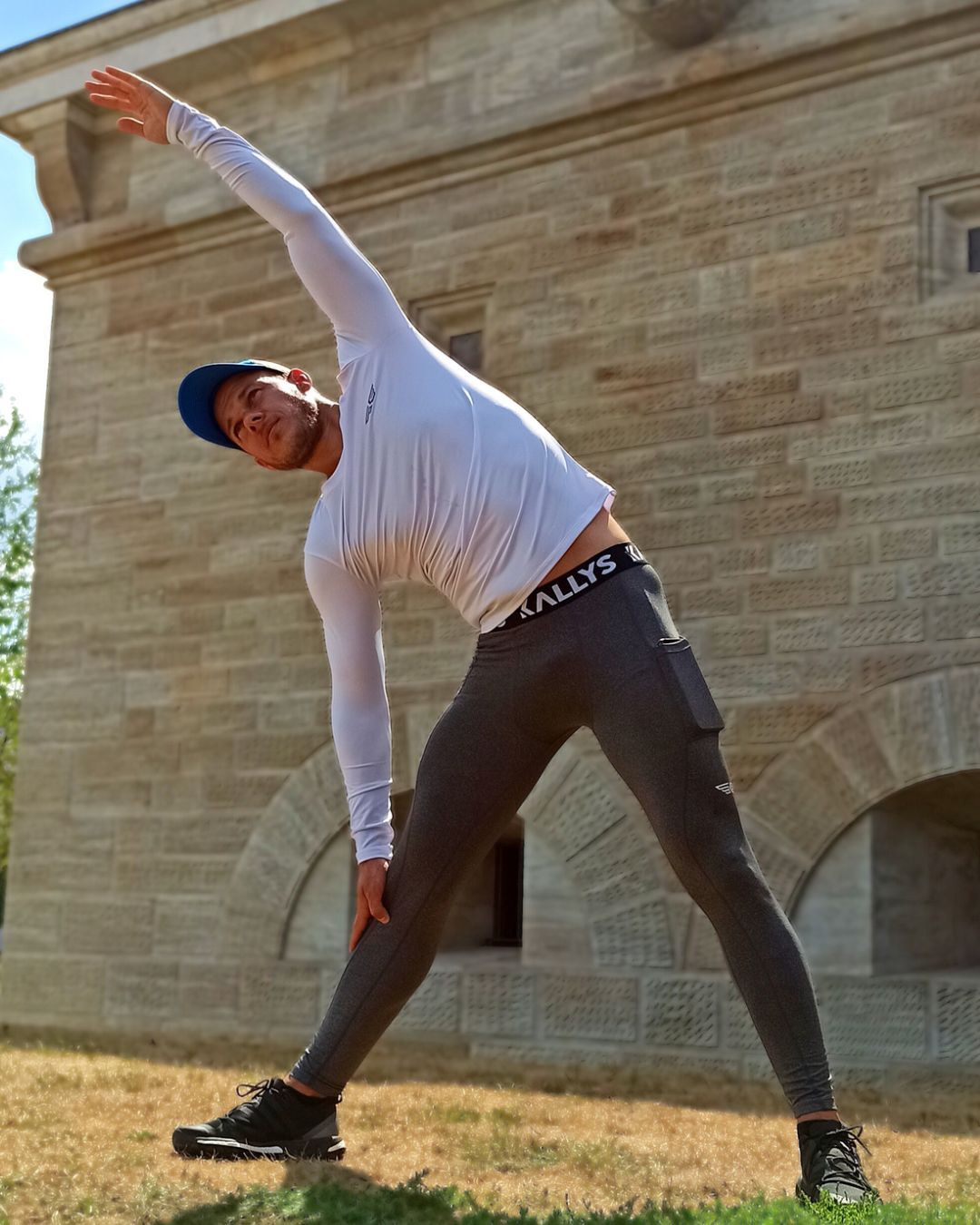 Compression T-shirts for men: A universal choice for various activities
Compression shirts for men are an excellent choice for those who are looking for a versatile piece of clothing that will provide them with support and benefits during various sports activities. Here are some of the features and benefits they offer:
1. Optimizing muscle performance and reducing fatigue.
Compression shirts provide compression to the muscles of the upper body, which leads to better muscle performance. They help minimize muscle fatigue and improve muscle recovery after training, allowing you to achieve better results.
2. Drainage of sweat and maintenance of body temperature.
Compression shirts are made of functional materials that can wick away sweat from the body. This helps you keep your skin dry and regulate your body temperature during strenuous physical activities. Compression shirts are ideal for several sports activities. These include running, hiking, skiing, weight training and more. Whether you're doing endurance training, intense training sessions or outdoor adventures, compression shirts will provide you with support, comfort and enhanced performance.
Summary
Men's sports compression leggings and compression shirts are becoming an integral part of men's sports equipment. Their advantages, such as improved blood circulation, support of muscle regeneration and an increased sense of comfort, make them versatile and beneficial clothing for various sports activities. If you want to achieve better performance and maximum comfort when running, exercising, hiking, skiing and other sports, do not hesitate to add men's sports compression leggings and compression shirts to your sports equipment. Their effective features and versatility will help you push your limits and achieve better results.