High-waisted leggings are a very popular piece of clothing in women's wardrobes these days. Thanks to their comfort, stylish looks and practical features, they are a popular choice for everyday wear, training or casual outfits.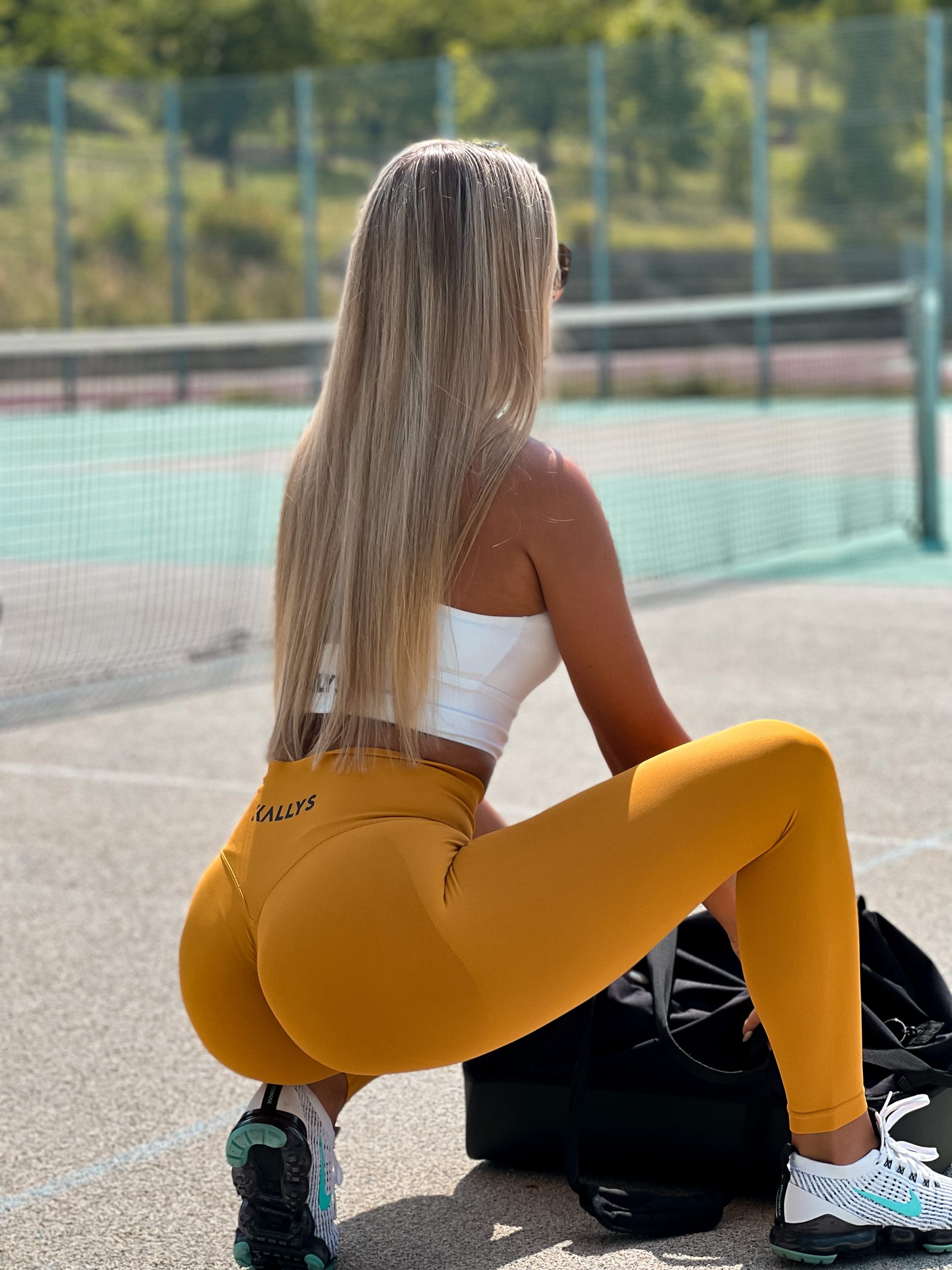 High-waisted leggings and boots
However, if you are less experienced in pairing leggings with the right shoes or sneakers, it can be difficult to make the right choice. That's why we've put together some tips to help you choose the right shoes for high-waisted leggings
Running shoes
If you workout or run in high-waisted leggings, consider buying running shoes. These shoes are designed to provide support while you run, which is important for foot health and comfort. Additionally, modern running shoes often come in a variety of colors and designs, so you can choose the ones that match your leggings.
Platform sneakers
Platform sneakers are a very popular trend these days and a great complement to high-waisted leggings. This type of shoe is not only stylish, but also comfortable and offers enough support for the feet. In addition, you can choose platforms with different sole heights and choose the ones that suit you best. They allow you to create a perfect contrast between contemporary and retro style.
Shoes for sports activities
When training or engaging in sports activities, it is important to wear the right shoes that provide adequate support and reduce the risk of injury. In this case, you should consider shoes that are designed for a specific sport, such as tennis shoes or basketball shoes. Designed for a wide range of movements, these shoes provide the right amount of support and cushioning.
Shoes for everyday life
If you are looking for shoes for everyday life, you should think about classic sneakers or ballerinas. These shoes are comfortable, versatile and easy to pair with high-waisted leggings. In addition, nowadays there are many modern and stylish sneakers and ballerinas, so you can choose the right one for you.
Boots or lace-up shoes
For cooler days or more formal occasions, consider another option – boots or lace-ups. They'll add some style to your leggings and top combo while providing the warmth you need. For boots, consider the height and style to match your leggings and the rest of your outfit. When choosing lace-up shoes, you should make sure that the color and material match your leggings.
Over The Knee Boots:
If you want to create an elegant and chic outfit for cold days, high over-the-knee boots are a good choice. Pair them with high-waisted leggings and a layered sweater or blouse over them for a chic and stylish look.
Ballet flats
If you are looking for a simple yet elegant style, pair high-waisted leggings with ballet flats. This type of shoes is comfortable and easy to combine with different tops.
Choosing the right shoes for high waisted leggings can be a matter of personal taste and style. However, it is important to consider the support and comfort the shoes offer and pair them with leggings to create the perfect outfit. If you follow our tips, you will definitely find the right choice for you and your high-waisted leggings. Do you know where to wear leggings like this?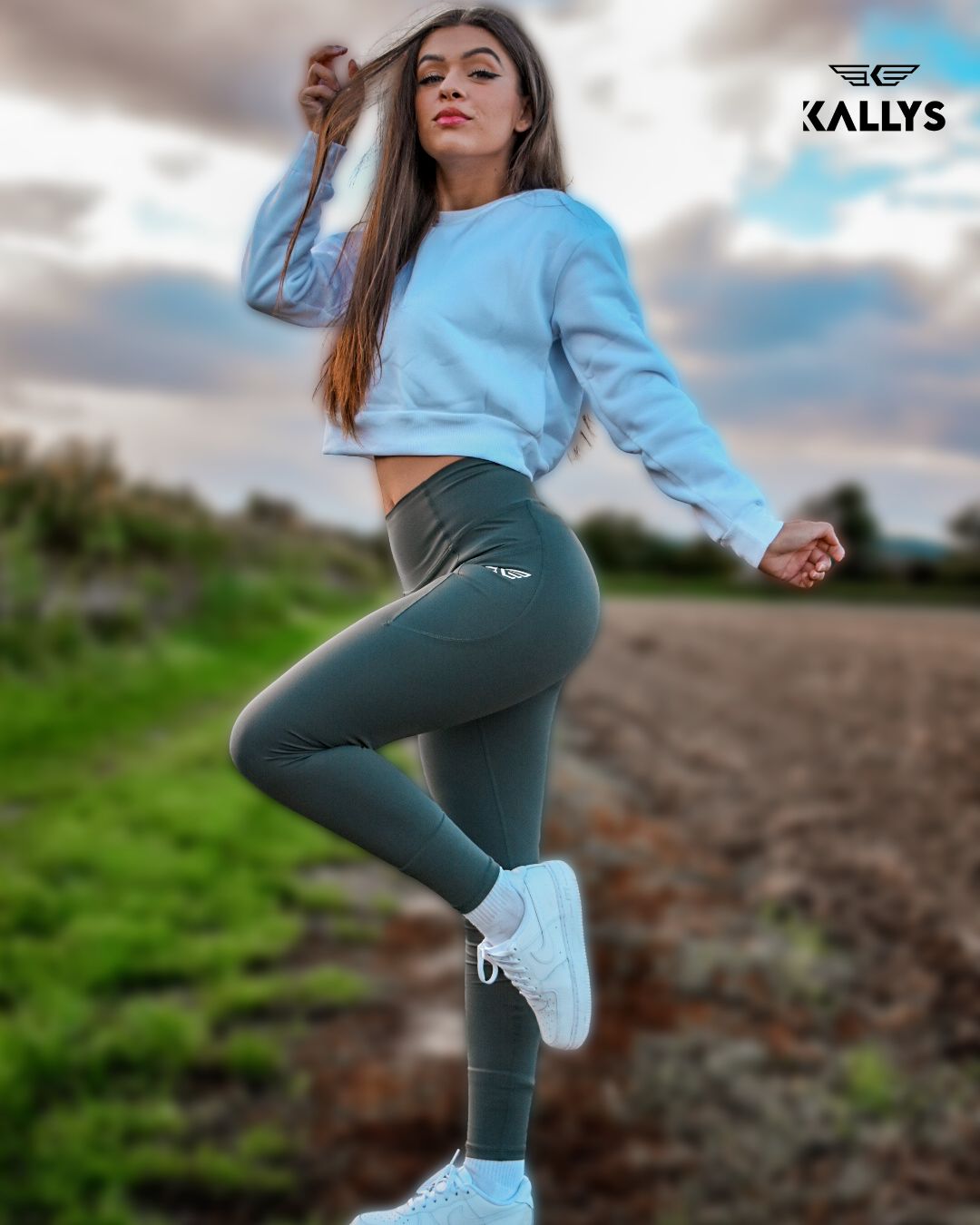 Use of high-waisted leggings
High waisted leggings have become one of the most popular pieces of clothing for many women. They are comfortable, flexible and contribute to a perfect waist. However, some women are still afraid of wearing leggings in different situations. That's why we give you tips on where to wear high-waist leggings and how to combine them on different occasions.
For sports: They are an excellent choice for sports. They are comfortable, flexible and keep everything in place, which is very important when working out. Combine them with a hip-length sports jacket and comfortable sneakers for the perfect workout outfit.
At work: High-waisted leggings can also be a suitable choice in the work environment if they are combined appropriately. Try pairing it with a longer shirt or dressy blouse and heeled shoes. Avoid revealing or clingy material and choose darker colors for a professional look.
For normal everyday activities: Normal activities such as shopping, meeting friends or family, or going for walks in nature are suitable. Combine them with a comfortable t-shirt or sweater and sneakers for a simple and fresh outfit.
For evening outings: High-waisted leggings can also be an elegant choice for evening outings. Try pairing black or dark brown leggings with a hip-length blouse or top and heeled shoes. Add an elegant coat and you have the perfect evening outfit.
For vacations: They are also a good choice for vacations, especially for activities like yoga or excursions. Combine them with a sports t-shirt or top and sandals or sneakers. For a boho look, pair high-waisted leggings with a floral top and gladiator sandals.
For a party: If you pair high-waisted shiny or leather leggings with a crop top and heeled shoes, you'll definitely be a star. Add an elegant coat and you have the perfect party outfit.
For a concert or festival: accessorize with a crop top, leather jacket and for a stylish festival look.
Note that choosing the right shoes and accessories is crucial when putting together your outfit. Don't be afraid to experiment and look for new combinations. High waisted leggings are very versatile and can be suitable for different occasions. Choosing the right shoes and accessories can give your outfit just the style you need.
More also on –> sportswear