The right sports bra is important for any sports activity, especially for activities with high intensity and jumping movements. Sports bras provide support and protection for breasts that are exposed to considerable stress and movement during sports. If the breasts are not sufficiently supported, this can lead to pain and permanent damage to health.
Choosing the right sports bra
In addition, an incorrectly chosen sports bra can cause unpleasant friction and irritation, which can affect your well-being and comfort during sports. That's why it's important to pay attention to choosing the right sports bra that will provide you with optimal support, comfort and safety.
Why do I really need a sports bra?
A sports bra should be an integral part of every woman's sports equipment. Some sports, such as running or jumping, require high intensity movement and impact loads that can cause pain and damage to the breasts. Without a bra, you could be exposed to these dangers. In addition, movements are more normal and comfortable with a high-quality sports bra that provides sufficient support and comfort.
In addition to safety aspects, a correctly chosen sports bra can also improve your performance. A quality bra keeps your breasts in place and ensures that your movements are more efficient. At the same time, the risk of pain and injury will be reduced, allowing you to train longer and more intensively.
A sports bra also helps keep your body at an optimal temperature during exercise. The materials used in sports bras often allow sweat to drain quickly and provide a cooling effect to help keep you drier and more comfortable.
Finally, a sports bra should be part of your sports equipment for psychological comfort. A quality bra can improve your attitude and confidence, helping you feel better and trust your body during training or competition. Overall, a sports bra should be considered as important a part of sports equipment as sneakers or leggings.
Types of sports bras
When choosing the right sports bra, it is important to know the differences between the different types. Here is an overview of the basic types of sports bras and their characteristics:
1. Classic sports bra
• One of the most common types
• Supports the breasts using a medium-strength elastic material
• Two-way straps are tied behind the neck or simply wrapped around the shoulders• Suitable for sports activities with low impact (yoga, pilates, short running)
2. Front fastening bra
• It has a fastening on the front of the bra, which allows for easy dressing and removing of the bra
• Supports the breasts with a stronger elastic material
• Suitable for sports activities with low and medium impact (fitness, aerobics, skating) 3. Bra with cross straps
• The straps cross on the back and provide more support for the breasts
• Breast support is provided by strong elastic material and bra construction
• Suitable for sports activities with low and medium impact (yoga, aerobics, dance)
• This type of bra provides high support for the breasts by means of compression (squeezing).
• The advantage is comfort and smooth movement during sports activities
• Suitable for sports activities with high impact (running, tennis, basketball)
5. Sports bra with padding
• This type of bra contains padding that adds volume and shape to your breasts
• The advantage is that this bra can increase self-confidence during training
• Suitable for sports activities with low impact (yoga, pilates, dance) The differences between each type of sports bra are significant, so it is important to choose the right type for the specific type of sport you plan to do.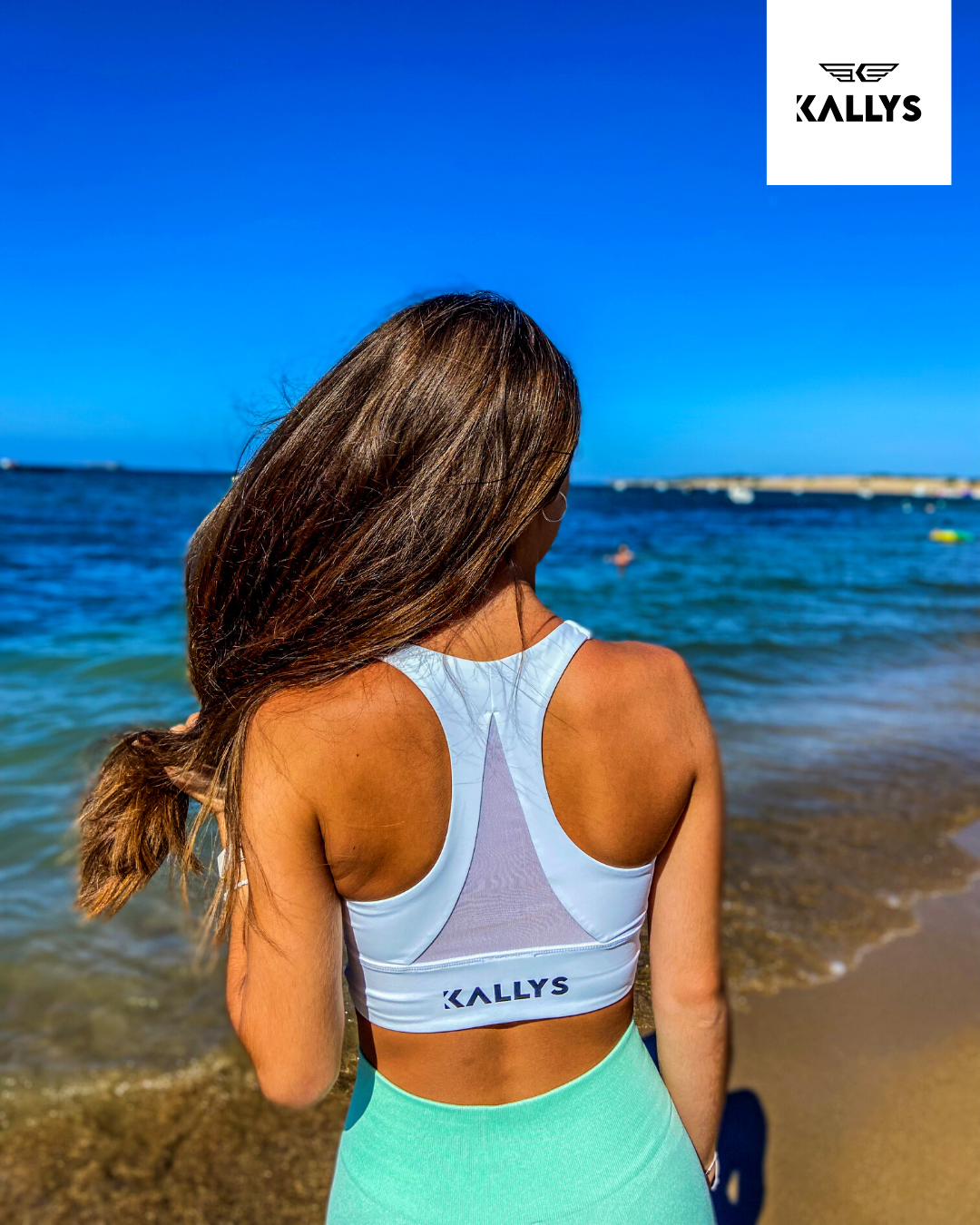 Features of a sports bra
Material, lining, fastening and size regulation and sweat resistance are properties of a sports bra that affect its functionality and comfort during sports.
1. Material: Sports bras can be made from a variety of materials, including cotton, polyester, nylon, spandex, or blends thereof. Each material has its own advantages and disadvantages. For example, cotton is breathable and soft, but not as sweat-resistant as other materials. On the other hand, polyester and nylon are sweat resistant but can be less breathable. Spandex is a popular material in sports bras because it conforms perfectly to the body and provides a comfortable and supportive fit.
2. Lining: Most sports bras have a lining that improves their support and comfort. This can be made of a variety of materials, including soft cotton or breathable mesh material. Some linings are removable, which makes it possible to adjust the support according to the needs of the user.
3. Fastening and size adjustment: Most sports bras have a fastening on the back or front. Some also have adjustable straps or bra regulation with a zipper. It is important that the fastening is strong and reliable enough so that the bra does not slip out during exercise.
4. Sweat resistance: It is a key feature that affects its comfort and functionality. Sports bras are usually made of materials that wick sweat away from the body to prevent the uncomfortable feeling of wet clothing during exercise. Some sports bras even have special technologies that improve their ability to wick away moisture from the body.
Sports bra size and fit
The right size and fit of a sports bra is crucial for a comfortable and effective workout. Wearing the wrong size can cause chest discomfort, friction or even pain. That's why it's important to know how to measure your size correctly and how to check if a bra fits well. How to measure the right size?
• Measure the circumference of your chest (under the bust, where the chest narrows the most) and the circumference of the breast at the widest part. Measure in cm and write down the values. Then calculate the correct size
• Use the calculated value from these two measurements to choose the correct bra size. There are several tables that will help you choose the ideal size according to the measured values.
How to check if a bra fits well? 
1. Assess bra fastening. The fastening should be firm and tight, but not stretched or too loose.
2. Check the straps. The straps should fit well and not be too loose or too tight.
3. Check that no layer is forming. The bra should fit snugly against the skin, but no layer should form under the bust or on the back.
4. Try exercising with a bra on. The best way to check if a bra fits well is to try it on while exercising. If you feel comfortable and have no discomfort while exercising, the bra is probably a good fit.
Style and color of sports bras
In addition to functionality and comfort, it is of course important for many women that their sports bra suits their style and aesthetic preferences. Currently, there is a large number of different sports bras in the market with different cuts, colors and designs. When choosing a style of sports bra, it is important to consider what type of sport you will be doing and what your preferences are.
Some women prefer a more covering bra, while others prefer a higher neckline. The choice also depends on personal style and preferences, some women feel more comfortable in simple bras without unnecessary details, while others look for bold patterns and colors. When choosing a sports bra color, it's important to consider what will go best with your sports gear. For example, if you want to be more visible when running on the road, it may be appropriate to choose a bra in a bright color or with a bold pattern, which will attract attention and increase your safety.
However, when choosing the style and color of a sports bra, remember that the most important thing is that the bra works well and provides the necessary support and comfort during sports.
Summary
Choosing the right sports bra is important for comfortable and safe movement during sports. When choosing, it is necessary to consider the type of activity for which you need the bra, as well as the material, lining, fastening and size regulation. Size and proper fit are key to bra comfort and effectiveness. When choosing, it is also important to consider the style and color to match your sports gear. We hope these tips help you choose the best sports bra for your active lifestyle.
See more –> Kallys sport bras